Max Verstappen is new F1 world champion after overtaking Lewis Hamilton on final lap
F1 Abu Dhabi GP 2021 – race analysis
Max Verstappen takes the title on the last lap of the season in one of the most dramatic endings ever
Max Verstappen won his first World Drivers' Championship at the end of one of the most dramatic title-deciders in Formula One history, passing rival Lewis Hamilton to take the lead and the race win on the last lap of a thrilling Abu Dhabi Grand Prix.
With 54 laps of the race gone and with Hamilton in an apparently comfortable 11 second lead, Max's chances of world championship glory appeared to be over, but when Williams' Nicholas Latifi crashed out and the safety car was released, Max was handed another chance.
Max pitted, took on soft tyres and when the safety car left the track he pounced and roared past Hamilton at turn five, though the Briton fought back on the following straight. However, Max held on to take his 10th win of the year and more importantly his first world championship crown and the team's first Drivers' title since 2013.
READ: BOLT AND SCREW PRELOAD FREE CALCULATOR | MECHANIC CALC TOOL – TORQUE
At 24 years old Verstappen becomes the Netherlands' first drivers' title winner and the fourth youngest in history, behind Fernando Alonso, Hamilton himself and Red Bull predecessor Sebastian Vettel.
How on earth did he do it? With F1's championship challengers level on points heading into the final race for only the second time in 71 years, Max stormed qualifying on Saturday by taking pole by almost four tenths. But despite starting the grand prix on the harder 'medium' tyre it was Hamilton who surged ahead into the first turn.
Lewis Hamilton congratulates new world champion Max Verstappen
Hamilton was left despondent following the result and he reacted after Verstappen denied him a record-breaking eighth title win.
Hamilton told Sky Sports:
"Firstly, congratulations to Max and to his team.

I think we did an amazing job this year. My team, everyone back at the factory, have worked so hard this whole year, it's been the most difficult of seasons. I'm so proud of them and I'm so grateful to be a part of the journey with them.

This last part of the season we gave it absolutely everything and never gave up."
The result left Mercedes stunned after a late safety car led to a stunning finale.
Race results. F1 Abu Dhabi GP 2021.

Lewis Hamilton, impeding on Mazepin: the Briton is saved, there were no penalties
Lewis Hamilton also breathed a sigh of relief and received no penalties on the starting grid of the 2021 Abu Dhabi GP, the last stage of the F1 World Championship that took place on the Yas Marina track. The Briton was in fact the protagonist of an impeding against Nikita Mazepin (quite evident) when there were a dozen minutes left at the end of free practice 3: the Mercedes standard-bearer hindered the Haas Russian coming out of the lane from the pits.
Lewis Hamilton risked a reprimand and, as it would be his third of the season, he would have to serve a ten-position penalty on the starting grid of tomorrow's race. The race stewards decided not to proceed and so the seven-time World Champion was saved.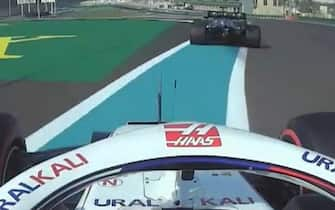 Another controversy as Hamilton and Verstappen duel on Lap 1 as title-deciding season finale gets under way.
F1 fans were braced for contentious moments as the Abu Dhabi Grand Prix season finale got under way. And they got it straight away, as title protagonists Lewis Hamilton and Max Verstappen duked it out on the opening lap at Yas Marina.
An ace start from P2 on the grid saw Hamilton expertly jump pole-sitter Verstappen to take the lead.
But a lunge from Verstappen into Turn 6 then saw Hamilton take to the run-off, with the Mercedes driver then re-emerging into the lead. And despite Verstappen's protestations that Hamilton should give the place back, the stewards later decided that no investigation was necessary.
See the video here!!
Mercedes can't lose and protests
The Red Bull driver needed "a miracle", according to team boss Christian Horner, sitting 11 seconds behind Lewis Hamilton with a few laps remaining before a Nicholas Latifi crash forced a safety car.
Race director Michael Masi made the last-second call to allow some cars to overtake the safety car, having previously said they couldn't, which put Verstappen directly behind Hamilton on fresh soft tyres (as per the regulation and as has always been done).
Masi had to call the safety car because Latifi's car was in full trajectory. Once the car had been moved the race was right to resume (otherwise it favored hamilton as the last laps could still happen something, in the racing world). Masi certainly has his motivations to explain for what happened with the cars that have to be split (as always, why did he want to leave them between Hamilton and Verstappen this time?).
In addition, those who believe that Hamilton was "robbed" Masi turned a blind eye even on the first lap towards him, as he took a big GAP by cutting the corner and this is absolutely not correct.
Only Mercedes then allows itself to raise its voice so much with the race direction in an unkind way, despite the few penalties delivered to Hamilton.
That said, Mercedes is not there yet and has made two complaints to the race management, both rejected.
BREAKING: The FIA Stewards have dismissed Mercedes' protests against the Abu Dhabi Grand Prix final classification #AbuDhabiGP 🇦🇪 #F1 pic.twitter.com/VPNIfaFDMC

— Formula 1 (@F1) December 12, 2021
MAX VERSTAPPEN WORLD CHAMPION
"It feels incredible to be World Champion and I couldn't have asked for a more insane last race of the year. It was a bit of a rollercoaster, from not really having a chance of winning until the last lap, everything came together, and we had to go for it. I kept saying to myself, I am just going to give it my all and I have until the last lap and that is what we did.

Of course, with that safety car restart in the last lap we had the fresher tyres but you still need to do the move – luckily it worked out. I want to say a big thank to Checo, because of his performance today, I won the Championship, he was driving his heart out for this Team. Today showed exactly what great teamwork is, he's an amazing teammate.

Mercedes won the Constructors' and we won the Driver's Championship so it really shows that throughout the whole year we pushed each other to the very end. Lewis is an amazing driver, there is no discussion about it. Of course, we had our moments throughout the season but I think you know that after everything we had an amazing fight this season and I think both teams gave it their all."
ONBOARD: Listen to full team radio as Max Verstappen wins world championship: here!!
SERGIO PEREZ "is a Legend"!!
"First of all, I'm extremely happy for Max and for this Team because they have worked so hard throughout the year and for many years. Max really deserves this Championship with the level he has driven at. I'm very happy to contribute to his title as a teammate, he's been a tremendous teammate and a great guy, I couldn't be happier for him.

Lewis was in control of the race and Max was 10 seconds or so behind so I am extremely happy I could do something to help the outcome. I was on extremely old tyres so there was not much I could do but I managed to take a couple of seconds of out of Lewis, which was critical and had an impact on the race. You don't want to get involved in their Championship and their battle, they've worked so hard for to be in this moment, but this is my Team, I did that for my Team and for Max.

I think finishing second was possible for me today with the way the race ended up concluding, but I had to retire because my car was not looking great and it could have ended up creating another safety car. It's a shame in the end that we didn't get the Constructions title, but I'm extremely happy with the job we've done this season."
READ: TYRES: WHAT IS BLISTERING AND GRAINING
Binotto explains the third place constructors: "It is important to have two riders able to always score points"
"The feeling is that there are so many unknowns related to 2022," Binotto continued. "Completely different regulations do not provide us with points of reference. We don't know what others are doing, where they are… We don't even have a basis on which we can reason. Right now there is a lot of curiosity to see how it will be. However, it is not long before we are, because now we will return home, a few weeks and we will be back on track. In addition to curiosity there is also a great desire and determination to do well. It's so much that the team is working on it, it's putting effort into it and it's working well. For us it will be an important moment to understand what our true value will be."

"There will be a great discontinuity and the drivers who will drive the cars will also feel it"

"They will have to adapt and it is not certain that everyone will do it in the same way. Perhaps you will have to re-evaluate your driving style. They are cars that will look more like Formula 2. So those who have been strong in F2 will be strong next year as well. But it's all to be seen. I think we will also have to wait beyond the first two or three races before we can make a judgment. This is because it will be necessary to give time to the teams and drivers to adapt with the driving, the mechanisms, the set-ups, the developments and perhaps it will take more GPs before having a correct overview."
Carlos Sainz Podium, here the interview!!