|F1 2022 Emilia Romagna GP| race analysis:
Verstappen leads Red Bull 1-2 as Ferrari falter in action-packed Imola race
Red Bull is far from out of title contention
At Imola, Red Bull produced the perfect response to its Australian Grand Prix shocker – where Max Verstappen couldn't match Charles Leclerc for ultimate pace or in-race tyre management even before his retirement.
In Italy, it was the reverse. Red Bull was able to switch on its tyres better than its red rival, which Verstappen used to grab his first pole of 2022. Then in the sprint and later in the GP, his tyres stayed in better shape while Leclerc's rubber grained – by that stage in the second race the championship leader was fighting Sergio Perez after his slow wet start on the less grippy side of the grid.
Red Bull also took the risk of running updates even with the reduced practice running on the sprint weekend, which Ferrari did not, and seemed pleased with the results of its new floor keel winglet and revised brake cooling. Critically, no reliability gremlins threatened Verstappen's masterful run to double victory, while the RB18 is now closer to the 2022 weight limit – an issue that added time at all of the early-season races before Imola.
READ: HOW F1 DRS WORKS?
An old mindset mistake brings Leclerc's first big error
What a turnaround for Ferrari – from Melbourne domination to a disaster on home soil back in Italy, where it had senior company executives in attendance.
Leclerc's big gap to Verstappen in qualifying was exacerbated by the various Q3 red flags, but he nevertheless seized the chance to lead when he could as the Dutchman's gear sync problem meant he was slow away at the sprint start. However Ferrari's car balance problem – another element that was the reverse from Melbourne, where Red Bull struggled with inconsistent handling – meant he was sliding more than Verstappen. This led to front tyre graining and eventually being repassed.
Then in the GP, after Leclerc had battled back from running fourth early on behind Lando Norris, he couldn't get close enough to Perez before the same tyre trouble arose.
Desperate to stay within DRS range late on the softs and make a difference in a slower package, Leclerc pushed too hard at the Variante Alta and spun after whacking the first apex kerbs. He was fortunate not to be out in the barriers on the outside in an incident that was reminiscent of his early Ferrari career crashes (plus Monaco last year), from which he said in Melbourne his car finally being a title contender meant he felt he had moved on making such a mistake.
Ferrari needs its development drive to start soon
Ferrari was the only team not to bring a single updated part to last weekend. It did so because the reduced practice running on the sprint weekends meant it wanted to avoid having to assess new parts as well as prepare for Friday evening qualifying – and in any case the wet running also reduced the data-gathering time for the teams. But the season's first European race is a chance for the teams to bring something to help their causes after the early flyaways, which Red Bull did to its benefit.
There's an argument that if a team is confident in its upgrades from its work back at the factory, then having less practice time available shouldn't be an issue, but Ferrari has still preferred to wait to add anything of note since back in pre-season testing. Therefore, F1 is still waiting to see if it can match Red Bull on development – something Verstappen's squad is very good at. And for the next round in Miami, it sounds as if Ferrari will bring a low-downforce arrangement rather than a major update package.
The gaps are still very small between the top two teams, with the tyre troubles really making the difference at Imola, so what Ferrari plans to add to its car could well be decisive this year. From what was on display around Imola – the respective natural strengths of the F1-75 and RB18 suggest Ferrari should be the favourite at Monaco and other slower speed venues, while Red Bull will be tough to catch at Baku and Monza. Miami too, may well favour Red Bull unless Ferrari can make its drag profile much more efficient.
READ: THE AERODYNAMICS OF A F1 REAR WING – CFD EXPLAINED IN MOTORSPORT
READ: WHAT IS CASTER ANGLE?
Analysis of the race: Emilia Romagna GP F1 2022 – Up and down.
UP
MAX VERSTAPPEN AND RED BULL
Dropping just one point from the second-most lucrative weekend in F1's history – behind only the 2014 double-points season finale – was exactly the response Red Bull needed after the disappointment of Verstappen's Australian GP retirement.
A trademark recovery in the sprint a below-par qualifying result put Sergio Perez in position for the race proper, and he made good on that by nailing the start to take second, then kept Leclerc at bay and repassed the Ferrari when he had to.
Red Bull is now second in the constructors' championship (after Saturday's sprint) and has made up an awful lot of ground on Ferrari. There's still work to do in the drivers' standings, but this was as potent as it has looked for some time.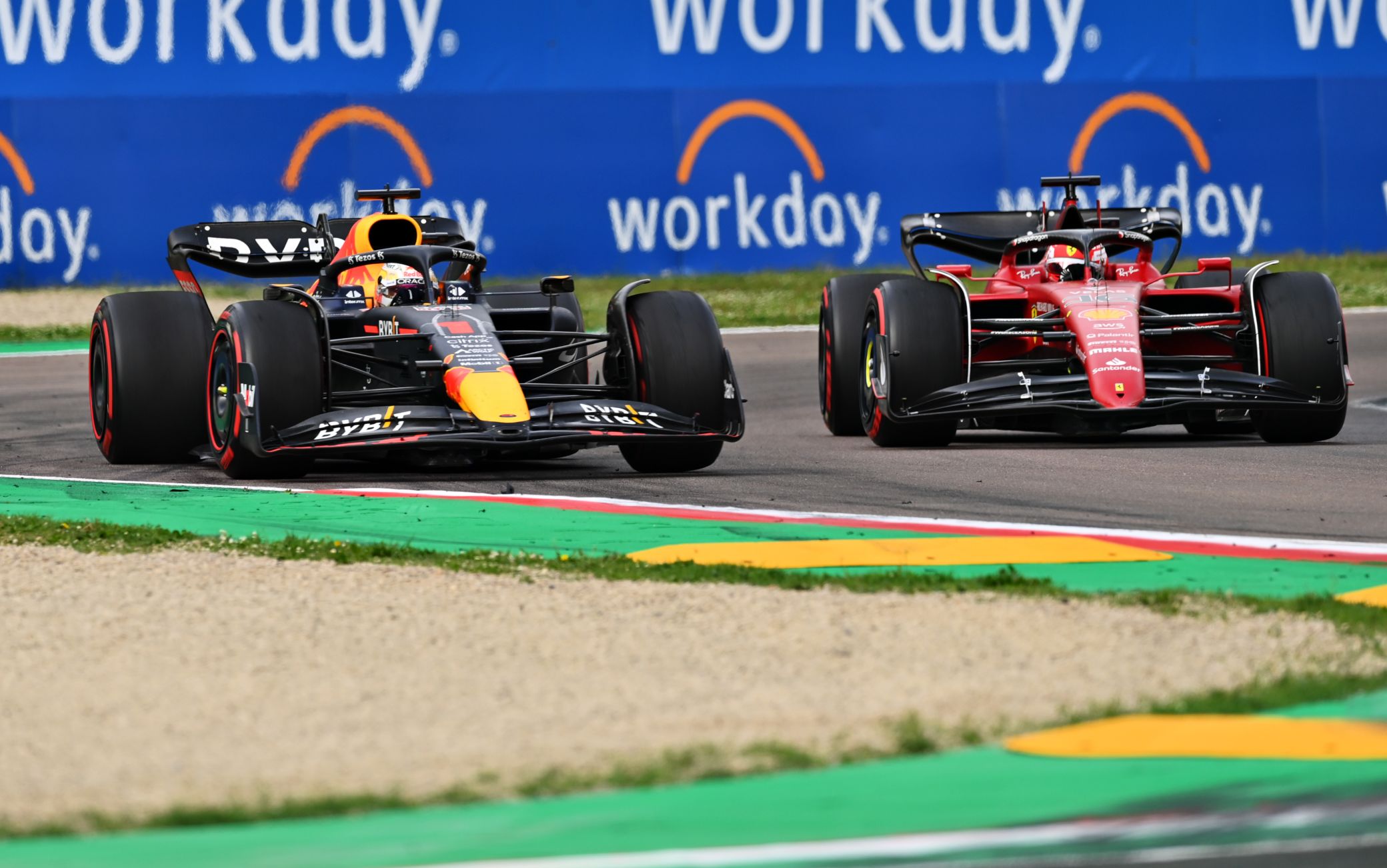 And his fastest lap on the very last lap to fend off Fernando Alonso's last-ditch attempt (which wouldn't have been eligible for a point anyway) was the icing on the cake of a perfect weekend, which he walks away from with a healthy 34-point championship lead.
READ: DOWNFORCE AND GROUND EFFECT EXPLAINED
GEORGE RUSSELL
Russell's race was made at the start, but from there he showed exactly what had been hinted at in Saturday morning's second practice – that the Mercedes' pace was nowhere near as bad as it seemed once it was afforded some clear air.
Mercedes can't be content that it still appeared to be slower than McLaren and Alfa Romeo in race trim, but the fact Russell was able to hold off Valtteri Bottas in the closing stages made his run to fourth all the more impressive.
A 40-second-plus gap to the winner wasn't great either, but fourth appeared the limit and Russell maximised his chances in the race from 11th on the grid. That drive looks better and better too in the context of Lewis Hamilton's failure to escape the pack.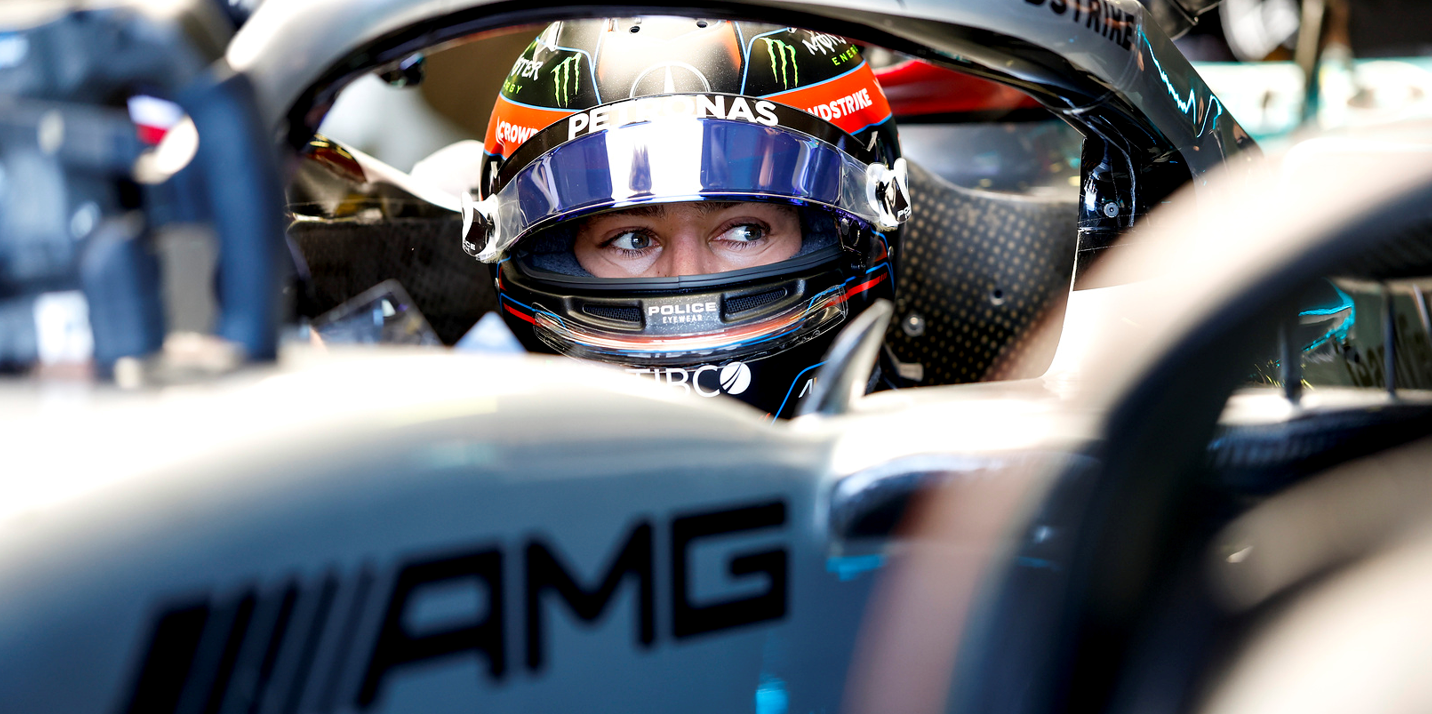 READ: DRAG COEFFICIENT OF SHAPES – PRESSURE DRAG AND SHAPE FACTOR
READ: WHAT IS PORPOISING F1 EXPLAINED
DOWN
FERRARI
Just when it looked like Carlos Sainz was back on the right track having recovered to fourth in the sprint, so came the hammer blow in the form of contact from Daniel Ricciardo through the first proper corner of the race.
Even with one car out of the race and the Red Bulls looking untouchable, despite Leclerc's best efforts to keep Perez in sight, a comfortable podium was within reach.
Then came the first proper mistake we've seen from Leclerc, which meant 15 points for third became eight for sixth.
On home soil, at a track where it was expected pre-weekend to be the pacesetter (even if the unsettled weather made the order less predictable), this was far from the weekend Ferrari would have hoped for – and one it can't afford a repeat of anytime soon.
LEWIS HAMILTON
Toto Wolff was right to apologise to Hamilton for the state of Mercedes right now via team radio at the end of the race. And there were a lot of external circumstances involved in the fact Hamilton was stuck in the midfield all race and finished a frankly astonishing lapped 13th.
But the fact Russell made something great happen with the same raw materials cannot be ignored. Nine places clear of his legendary team-mate was absolutely tremendous from Russell in just his fourth race as a Mercedes full-timer.
That's two races out of four now where Mercedes has been at its worst and Russell has got a significantly better result than Hamilton. That doesn't reflect well on the seven-time champion right now. He's right to dismiss suggestions Russell's better at handling competitive adversity as lazy punditry, but it's not looking like a groundless theory.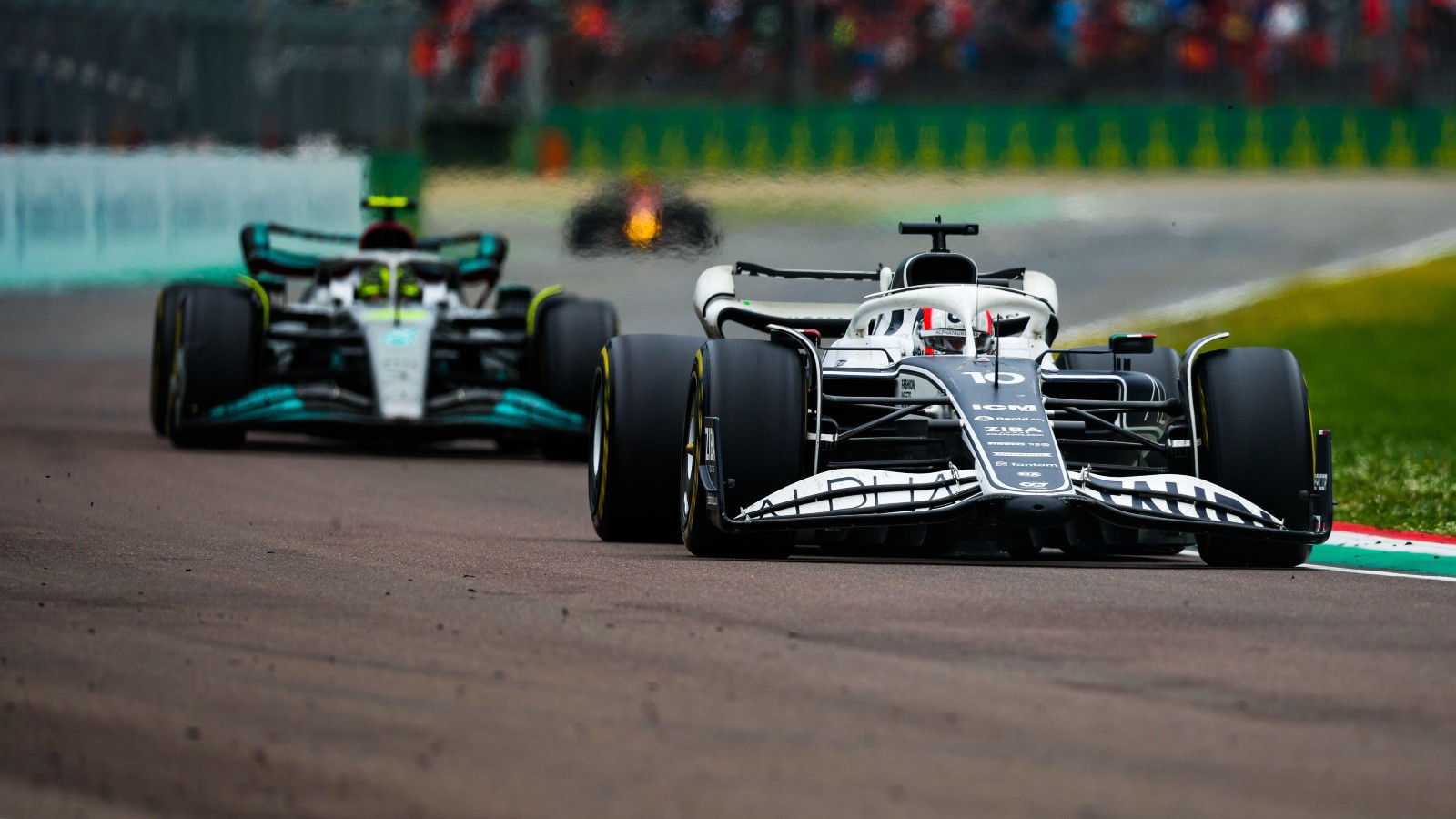 DANIEL RICCIARDO
McLaren should still come away from Imola buoyed by its performance, but on another weekend where Ricciardo showed similar pace to Norris the fact that he no-scored in the race proper while his team-mate clinched an unlikely podium will be hard to swallow.
Sixth on the grid and a good launch put him in contention, but then came the contact with Sainz. The rest is history.
Ricciardo getting on the kerb unaided just forced him a little wider than needed to get two cars through the corner, and it seemed fair that it went down as a racing incident. But it also rendered Ricciardo's race useless – his only noteworthy contribution coming when he pitted first for slicks (which proved to be the right time to cross over).
READ: WHAT IS CASTER ANGLE?