Verstappen held off F1 title rival Hamilton to claim a crucial victory during a tense United States GP
F1 COTA GP 2021 – race analysis
Aggressive strategy pays off for Red Bull 
Verstappen had to fend off a charging Hamilton in a thrilling conclusion to the first race at Austin for two years with both drivers running on opposite strategies.
With eight-lap fresher tyres after going longer into the race than Verstappen, Hamilton hunted down his championship rival and reduced an eight-second deficit down to a second entering the final lap.
But Hamilton was ultimately unable to get within a second of Verstappen to gain a crucial DRS boost as the Red Bull driver held on in a nail-biting finale after expertly managing his tyres in the second stint.
The victory – Verstappen's eighth of 2021 and 18 of his career – sees him move into a 12-point advantage over Hamilton going into the final five races of the season.
A perfect launch enabled Hamilton to surge past Verstappen on the run to Turn 1, with the Red Bull driver forced wide at the exit of the corner as Hamilton snatched the lead.
With Verstappen unable to respond despite running within a second of Hamilton's Mercedes, Red Bull opted to pull the trigger by committing to an undercut strategy just 10 laps into the race as Verstappen pitted first.
READ – PRACTICAL TYRE MODELS: SLIP ANGLE AND SLIP RATIO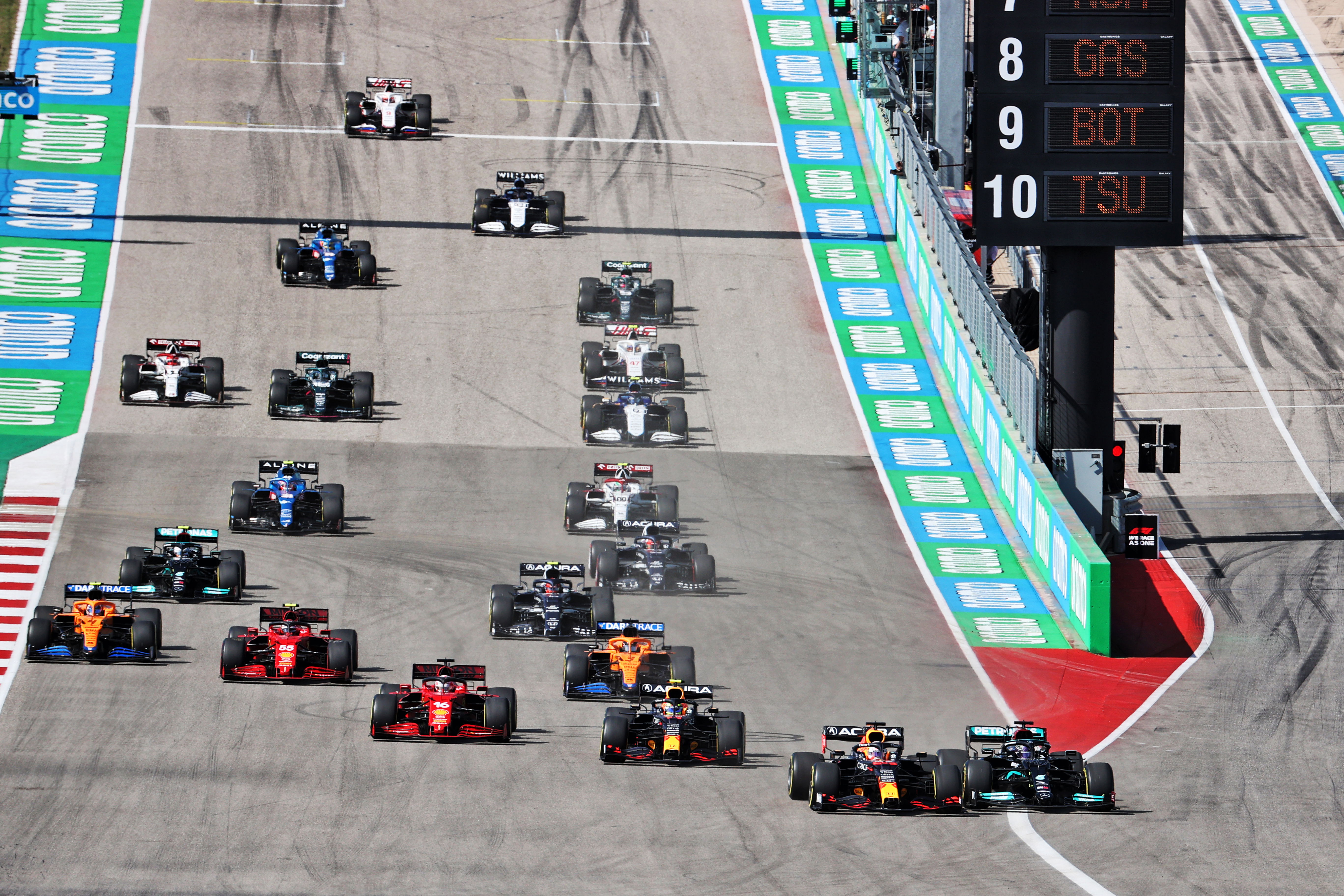 Mercedes to 'retrace weekend' to see how it "could have won" COTA GP
Toto Wolff says Mercedes will conduct a full review to investigate how it "could have won" Formula 1's United States Grand Prix after it was beaten to the victory by Red Bull's Max Verstappen. Despite taking the lead on the opening lap from second on the grid, Hamilton lost out to Verstappen through the pit stop phase. Red Bull's aggressive two-stop strategy allowed it to gain track position over Hamilton, meaning the seven-time champion had to overtake on track. The warmer track temperatures meant running in the turbulent air of another car made it more tricky than usual as the tyres were overheating, ensuring Hamilton couldn't get close enough to make a move in the closing laps.
Reflecting on the race, Wolff said:
"I think we could have won the race, of course because we were in the lead and we had a very strong pace on the hard. But in a way, we need to retrace the weekend from Friday to Sunday: where did we misjudge, where did we get it wrong and what did we do well."
READ – BOLT AND SCREW PRELOAD FREE CALCULATOR | MECHANIC CALC TOOL – TORQUE
Perez: COTA F1 GP my 'toughest race physically' after drinks bottle failure
Can you find the interview here!
Leclerc thought F1 podium was possible after 'leaving nothing on the table'
"Well it was a very very good race, the pace was there, every laps were quali laps and I honestly didn't leave much on the table today," Leclerc said. "It's a very very good day, and everything felt very good, and it also shows we are working in that right direction, that as a team we are doing improvements races after races and that's great to see. How high do I rate this race? I don't know, every race is different, but it was definitely a great drive and a great car to drive too."
Can you find the interview here!
Sainz: Ricciardo COTA GP F1 move 'on the limit of legality'
Sainz and Riccardo were embroiled in multiple battles during the 56-lap race at the Circuit of the Americas with the first taking place on the opening lap. As Lando Norris attempted to go down the inside of both Sainz and Ricciardo, Sainz went wide at Turn 12 to retain the position over Ricciardo. The pair then went side-by-side as Sainz lost the position through the next sequence of corners. Explaining the events of the opening lap, Sainz revealed that he thought it was Norris, rather than Ricciardo behind him after Turn 12.
Can you find the interview here!