|F1 2022 Hungary GP| race analysis:
Ferrari's strategy blunders are really mounting up

Verstappen recovers from P10 to take Hungary GP win as Mercedes secure double podium
Ferrari looked to have the pace to beat Red Bull in the preceding French Grand Prix before Leclerc badly let it down with his crash. But that event also featured the team's botched strategy with Sainz after he'd blotted his copybook by driving through Ferrari's pitstop red light and getting a penalty. Sainz had insisted the day before that criticism of Ferrari's strategy calls was unfounded – a claim that is becoming ever more bizarre.
In Hungary, having edged back to pressure early leader Russell in the first stint, Ferrari looked to have the pace and track position to win once Leclerc had finally cleared the Mercedes in yet another brilliant pass this season. But putting him on hards, which it had not run in the dry Friday practice, cost so much pace he even needed an extra stop. Sainz was not put on the hards, but Ferrari still found a way to cost him time – in this instance with two slow pitstops.
Team boss Mattia Binotto claimed Ferrari lacked the pace to beat Red Bull even with the same strategy, but this goes down as yet another example of the red team itself preventing its drivers from achieving their best results. Indeed, Horner said of his rival's decisions: "You have to think on your feet… [Ferrari] boxed themselves into a corner".
READ: THE AERODYNAMICS OF A F1 REAR WING – CFD EXPLAINED IN MOTORSPORT
Verstappen and Red Bull really show their class to take shock victory
The 2022 rule changes may have made racing much better even on the tight and twisty Hungaroring (more on that later), but a driver would never choose to start a race at this venue from 10th – especially with the chance that weather won't intervene.
As the rain just about stayed away at the Budapest track last Sunday other than drizzle falling at various points and with no safety car to bunch the pack up, that Verstappen and Red Bull came away victorious from that grid spot was mightily impressive.
The team spotted Verstappen's struggles for grip on the laps to the grid in the coolest conditions of the weekend and so decided to stick with the softs for the race start. This proved to be a vital decision as it meant Verstappen could use the mediums for the remainder and avoid the hards, which would undo Ferrari.
The world champion's passes were brilliant and he heads into the summer break with an 80-point lead. That's so big Verstappen can now afford to finish second to Leclerc at every round and the final sprint (although he'd need to nick a fastest lap point, which his rival needs at every race, to avoid losing the title on victory countback).
READ: WHAT IS CASTER ANGLE?
Even engine and clutch issues, plus smoky spin couldn't stop Verstappen's victory
Things did not look so rosy for Red Bull after qualifying, when a sudden engine issue robbed Verstappen of power ahead of the final Q3 runs. But Red Bull team boss Christian Horner estimated that had that not happened, the engine would've failed during Verstappen's laps to the grid and caused a DNS.
Overnight, Red Bull swapped to fresh engines for both Verstappen and teammate Sergio Perez and although Horner says the previously used units can be repaired, it does raise the prospect of them taking grid penalties for running further engines later in the season.
During Sunday's race, Verstappen's clutch was heating to the point of nearly burning, so Red Bull had to hold him back when chasing Carlos Sainz after the first stops. But once it had figured out a way for him to drive around the issue, he was unleashed again.
Verstappen says the issue causing his wheels to slip when applying throttle contributed to his spin having just passed Leclerc for the first time. But his pace was so great – and Perez's defensive action against the quickly-arriving Russell helped avoid further lost time – he was able to quickly recover.
READ: HOW F1 DRS WORKS?
Mercedes "unconventional" tactics bear fruit with Hungary pole
George Russell claimed his first F1 pole by topping qualifying at the Hungaroring, which ended a 13-race streak since Mercedes' last pole – taken by Lewis Hamilton at the 2021 Saudi Arabian GP.
Afterwards, team boss Toto Wolff credited his squad testing its typical processes by trying new things – such as running a new floor at Silverstone that had not been trialled in its windtunnel due to correlation issues spotted in its at-track data across the season so far.
This, Wolff felt, contributed to Russell's pole, while Hamilton reckoned the team could've qualified in a 1-2 without his car having a DRS issue just as he started his only new tyre run in Q3. The pair ended up finishing second and third for the second race in a row, with Hamilton following Verstappen home.
"This season, we have done unconventional things," said Wolff. "I remember having a chat with a very clever lady in aerodynamics and she said: 'if you would have told me last year that we're putting a floor on the car that we haven't run in the windtunnel, I would have said we are never going to do this.' We did and everybody was proud of the results.
"It's been same thing every weekend, and more so on Friday and Saturday here. We've tried things."
Race results – after the race:  Hungary GP F1 2022
Binotto explains bizarre Ferrari strategy
Ferrari's overall pace was to blame for their 2022 Hungarian Grand Prix downfall rather than poor strategy, according to team boss Mattia Binotto.
The team qualified second and third and it looked a golden opportunity for Charles Leclerc to make up points on Max Verstappen, but after pitting on Lap 39, Leclerc was never back in contention for the lead and slumped to a six-placed finish as the Dutchman won.
READ: WHAT IS CASTER ANGLE?
Binotto:
""When we fitted the hards, our simulation was that it would've been a difficult couple of laps of warmup, they would've been slower to the medium for 10-11 laps but then they would've come back and they would've been faster by the end of the stint and it was a 30-lap stint.

So we fitted our tyres at the time because it was a 30-lap stint and we were trying to protect position on Max.

"It would've been too long certainly for the soft and our analysis was yes it would've been a difficult start to the stint but it would've come back by the end. Overall the tyres didn't work."
Not the Sunday you deserved #Tifosi.

Thanks for your support through thick and thin ❤️#essereFerrari 🔴 #HungarianGP pic.twitter.com/BRzsX9K8tF

— Scuderia Ferrari (@ScuderiaFerrari) July 31, 2022
Do you remember what Binotto said after last week's race in France?
Binotto: "In Hungary for the double"
Read the full interview here!!!
The mistake is so sensational that the social networks have gone mad and jokingly make fun of Ferrari, like the picture below.
READ: DOWNFORCE AND GROUND EFFECT EXPLAINED
Fernando Alonso to join Aston Martin F1 in 2023
Fernando Alonso:
"This Aston Martin team is clearly applying the energy and commitment to win, and it is therefore one of the most exciting teams in Formula One today.

"I have known Lawrence and Lance for many years and it is very obvious that they have the ambition and passion to succeed in Formula One.

"I have watched as the team has systematically attracted great people with winning pedigrees, and I have become aware of the huge commitment to new facilities and resources at Silverstone.

"No one in Formula One today is demonstrating a greater vision and absolute commitment to winning, and that makes it a really exciting opportunity for me."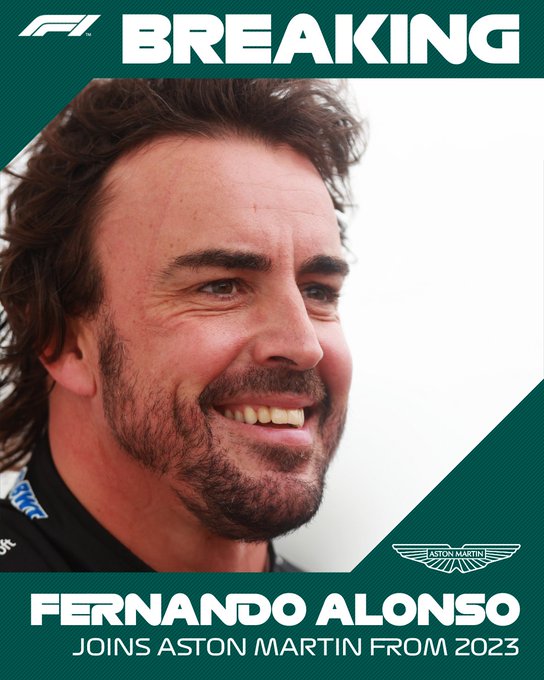 READ: WHAT IS PORPOISING F1 EXPLAINED
The future of top F1 prospect Oscar Piastri descends into chaos as he refutes Alpine's announcement that he will drive for them in 2023
It looks like top prospect Oscar Piastri will finally get a shot to drive in Formula One, but with which team remains a hotly contested matter.
On Tuesday, Alpine announced that Piastri, currently the team's reserve driver, would join its lineup in 2023, replacing Fernando Alonso, who surprisingly announced that he would be moving to Aston Martin next year.
2023 driver line-up confirmed: Esteban Ocon 🤝 Oscar Piastri

After four years as part of the Renault and Alpine family, Reserve Driver Oscar Piastri is promoted to a race seat alongside Esteban Ocon starting from 2023. pic.twitter.com/4Fvy0kaPn7

— BWT Alpine F1 Team (@AlpineF1Team) August 2, 2022
However, two hours later, Piastri shocked the F1 world by calling Alpine's announcement fake news.
"I understand that, without my agreement, Alpine F1 have put out a press release late this afternoon that I am driving for them next year," Piastri wrote on Twitter.
"This is wrong and I have not signed a contract with Alpine for 2023. I will not be driving for Alpine next year."
Piastri, the 2020 F3 champion and 2021 F2 champion, has been considered a key piece for this summer's "silly season" to determine the 2023 F1 grid.
The 21-year-old Australian has been linked to both McLaren, as a potential replacement for Daniel Ricciardo, and Williams, where he would replace Nicholas Latifi.
Several outlets have reported that Piastri and his agent, former F1 driver Mark Webber, have been working on a deal with McLaren.
However, according to Alpine team principal Otmar Szafnauer, Piastri is still under contract with his team.
"I'm not privy to whatever pre-arrangements he has with McLaren, if any at all," Szafnauer told Motorsport.com. "But I hear the same rumors that you do in the pit lane. But what I do know is that he does have contractual obligations to us. And we do to him. And we've been honoring those obligations all year. And those obligations last through '23 and possibly in '24, if some options are taken up."
Complicating matters is an apparent clause in Piastri's current contract.
READ: DRAG COEFFICIENT OF SHAPES – PRESSURE DRAG AND SHAPE FACTOR